Our dietitian,
Umo
, and her family enjoyed a nice spin on Taco Tuesday with a rendition of
Genius Kitchen's
Fantastic Taco Casserole. Umo swapped out ground beef with ground turkey breast and reduced the shredded cheese in half, and still had a delicious crowd pleaser.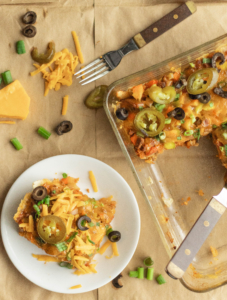 Enjoy this Fantastic Taco Casserole on your next Taco Tuesday!
What you Need:
1 1 ⁄2 lbs ground turkey1 large onion, finely chopped
2 tablespoons minced fresh garlic
1 red bell pepper (seeded and chopped)1 cup of water
2 teaspoons dried chili pepper flakes1 (215 ml) bottle taco sauce
2 (4-ounce) cans of diced green chilies
A can (14-ounces) sliced ripe olives, drained and divided
1 package taco seasoning mix
1 (4 1/2-ounce) package white corn tortillas, broken into pieces
2 cups shredded cheddar cheese, divided
1 large firm tomatoes
3 sliced green onions
What to Do:
Over medium heat, cook ground turkey, onion, bell pepper, chili flakes, and garlic in a skillet until turkey is fully cooked. Drain. Stir in water, taco sauce, green chiles, half of the olives and taco seasoning mix. Cook over low heat for about 6-8 minutes. Layer half of broken tortillas on the bottom of a greased 13×9 baking pan, then cover with half of the meat mixture, then sprinkle with cheddar cheese. You should be able to do TWO layers of each. Bake at 350 F for 20 minutes. Sprinkle the last layer of cheese during final 10 minutes of baking time and return to oven until cheese is bubbly and melted. Garnish with remaining olives, tomatoes and green onions.
Happy Taco Tuesday!
UC
https://banisternutrition.com/wp-content/uploads/2019/05/IMG_9429-1.jpg
3990
3014
Banister Nutrition
https://banisternutrition.com/wp-content/uploads/2023/06/Banister-Logo-41-years.png
Banister Nutrition
2019-05-21 08:16:48
2019-05-21 08:16:52
Taco [Casserole] Tuesday