Special Halloween Considerations
H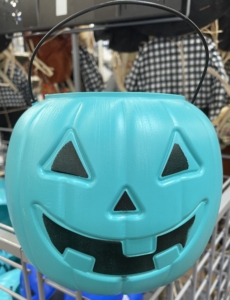 alloween can be a particularly stressful time for parents with children who have food allergies or autism. The Teal Pumpkin Project was started in 2013 for children with food allergies. The idea is that if you put a teal pumpkin on your doorstep, it means you have nonfood items you can give to children with food allergies. Similarly, a growing number of social media posts advocate using a dark blue pumpkin to signify that you are welcoming of children with autism or sensory disorders. 
Teal Pumpkins: Use these to indicate that you have nonfood items such as spider rings, slinkys, games, glow sticks, bouncy balls, or other small toys that you can give to children with food allergies. 
Dark Blue Pumpkins: Things to keep in mind for children with autism or other sensory disorders:  
It is helpful to have nonfood items to give out to these children in case they have any dietary restrictions or food preferences. 

We are all familiar with the tradition of trick-or-treating where we give the candy out AFTER the children say "trick-or-treat," but this can create tension for those with autism since they are not always verbal. 

It is also important to remember that loud noises, bright lights, and scary decorations can cause sensory overload in these children. 
This year, as you prepare for Halloween, consider adding some goodies that are safe for every trick-or-treater, and set out a teal and dark blue pumpkin so that everyone knows they are welcome!
KR
https://banisternutrition.com/wp-content/uploads/2021/10/happy-1.png
1080
1080
Banister Nutrition
https://banisternutrition.com/wp-content/uploads/2021/09/BN-40-logo-1.jpg
Banister Nutrition
2021-10-26 15:31:18
2021-10-26 15:31:18
Special Halloween Considerations