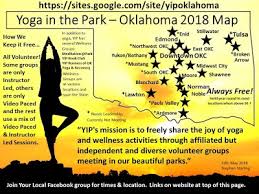 Low Cost OKC Metro Workouts
There are several events offered around the OKC metro that are free or low in cost encouraging you to be active. Take advantage of these while the weather is nice! Other free activity ideas: phone apps (example: couch to 5K), websites (example: yoga yak) or trials at a gym.
Red Coyote Running and Fitness: Free 3 mile walk or run http://redcoyoterunning.com/weeklyruns.html
Tuesdays, 6PM @ Red Coyote Edmond location – loops through Mitch Park

Wednesdays, 6PM @   Anchor Down – through downtown OKC

Thursdays, 6PM @ Red Coyote Classen Curve location – through Nichol Hills trails
Sunrise Yoga: $5 yoga https://www.visitokc.com/event/sunrise-yoga/9165/
Thursdays, 6:30 AM @ Will Rogers Gardens
Fitness Meetups:
https://www.meetup.com/topics/fitness/us/ok/oklahoma_city/?_cookie-check=l5wiUojbjwZo-66e
Group Training at Energetic Wellness: Tuesdays/Thursdays mornings/evenings

Oklahoma City Sports Fitness: Sunday afternoons – pickup games (soccer, touch football, touch rugb,y baseball, kickball, volleyball, ultimate frisbee, etc.)

Lake Hefner Walk Meetup: Saturday mornings @ parks around Lake Hefner – walking

MWC Walk Meetup: Thursday evenings @ Joe B. Barnes Regional Park
Oklahoma City Running Club – The Landrunners: free run or walk http://www.okcrunning.org/
Meets on the weekends in the Spring to train for the Oklahoma City Memorial Marathon and half marathon @ OKC metro locations. Meets on the weekends  in the Fall to train for The Williams Route 66 Marathon and half marathon @OKC metro locations.
Yoga in the Park – Oklahoma: Free yoga @ parks around the OKC metro. Facebook Groups
Yoga in the Park – Edmond: Thursdays, 6:30PM & Saturdays, 10AM
Yoga in the Park – Downtown OKC: Sundays, 10AM

Yoga in the Park – Northwest OKC: Saturdays, 10AM

Yoga in the Park – Moore: first Saturday of the month, 9AM

Yoga in the Park – Norman: Mondays/Tuesdays/Wednesdays/Thursdays, 6PM & Saturdays, 9AM

Yoga in the Park – Midwest City: Wednesdays, 7PM
https://banisternutrition.com/wp-content/uploads/2018/06/yoga.jpg
194
259
Banister Nutrition
https://banisternutrition.com/wp-content/uploads/2023/06/Banister-Logo-41-years.png
Banister Nutrition
2018-06-23 12:00:05
2018-06-21 16:00:42
Low Cost OKC Metro Workouts