From a Dietitian's Kitchen – Fresh Pear and Pomegranate Salad
Pears and pomegranates are currently in season and are a great addition to a green salad. Pomegranates are rich in antioxidants as well as fiber, vitamins, and minerals. Some refer to them as one of the "super foods." One-half cup of arils/seeds of the pomegranate contains 75 calories, 15 gm carbohydrates, and 3 gm fiber. Pears are a great source of vitamin C, copper, and fiber. Pears are said to have more nutrients per calorie than calorie per nutrient!
Enjoy this fresh winter salad while getting a great supply of nutrients!
Salad:
1 head Romaine
Arils/seeds removed from 2 pomegranates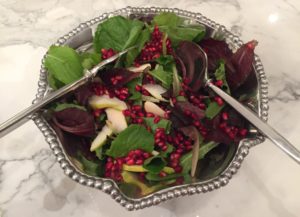 1 pear cut into thin slices
Dressing:
½ C sugar
1 tsp dry mustard
½ tsp salt
1/3 C apple cider vinegar
1 C oil
1 ½ Tbsp grated onion
1 Tbsp poppy seeds
Make dressing in advance and let chill in refrigerator.
Just before serving drizzle over salad.
Recipe makes enough dressing for salad for 2 meals.
-CB
Want to try using a fresh, whole pomegranate? Here's a neat tutorial video we found: https://www.youtube.com/watch?v=2gyFM1Y8tqY
https://banisternutrition.com/wp-content/uploads/2016/12/FullSizeR1.jpg
1484
2048
Banister Nutrition
https://banisternutrition.com/wp-content/uploads/2023/06/Banister-Logo-41-years.png
Banister Nutrition
2017-01-10 11:29:57
2017-01-02 09:36:13
From a Dietitian's Kitchen – Fresh Pear and Pomegranate Salad