Meditation could have a positive impact on stress, anxiety, mindless eating, reckless food choices, weight loss, diabetes, and cardiovascular disease.
The ancient practice of meditation involves residing in a deep state of concentration uninterrupted by thoughts. Research shows meditation has the ability to clear, calm, and focus the mind with benefits such as moderating stress response, lowering glucose levels, decreasing blood pressure, and other issues associated with cardiovascular disease. It has also been shown to increase mindfulness for weight management and eating disorders. 
The role of a dietitian includes exploring a patient's lifestyle as it relates to their relationship with food. What you eat can strongly be influenced by emotions (anger, disgust, fear, happiness, sadness, and surprise). It's no surprise that food and emotion are interconnected. 
Starting off, meditation sounds challenging and downright impossible. 
Psychology Today recommends starting small with 3-5 minutes (or less). Beginners may find it strange to sit in silence with their innermost thoughts and feelings, and do nothing. Meditation does require some practice. Your mind will wander, try to maintain focus by slowing down and focusing in 60 seconds intervals. Try to focus on your breaths out or a single image. Meditation can take many forms such as mindfulness, visualization, walking meditation, or focused awareness.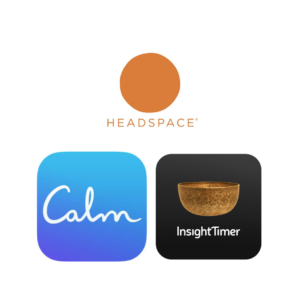 Reading, attending classes, listening to podcasts and apps can provide lots of information and guidance on mediation. Our patients have found apps like Headspace, Calm, Insight Timer to be helpful. Some informative podcasts about meditation include The Overwhelmed Brain, Meditation Minis, The Daily Mediation Podcast, and Meditation Oasis.
The value of meditation is not dependent on how much you do or how committed you are. The value of meditation is measured by how you are able to positivity impact your quality of life.
CB
https://banisternutrition.com/wp-content/uploads/2019/08/Untitled-design-1.png
1080
1080
Banister Nutrition
https://banisternutrition.com/wp-content/uploads/2023/06/Banister-Logo-41-years.png
Banister Nutrition
2019-08-29 12:13:24
2019-08-29 12:13:24
Meditation and Nutrition