Meal planning and food prep are hands down some of the simplest ways to feed your family healthy, nourishing meals during the week. With busy schedules, it can be tough to make home-cooked meals each day of the week. 
Earlier this summer, we talked about ways to navigate the supermarket with ease. We've found that even small steps such as cutting vegetables or fruits ahead of time can save a tremendous amount of time during the week.
After you consider your budget, flavors, and the time you have to devote to cooking, here are some ideas on conquering meals throughout the week.
We will give some tips on meal planning breakfast, lunch and dinners.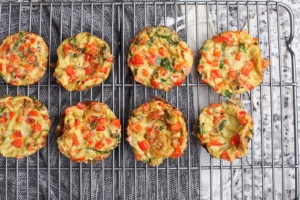 Breakfast
Mornings can be crazy and you need something nourishing and fast. 
If you like breakfast items like steel-cut oats or pancakes, preparing these beforehand can save a lot of time in the morning scramble. Oats and pancakes can be saved in a medium-sized container or portioned out and warmed up in the morning before heading out the door. 
Other fantastic breakfast ideas include:
Hard-boiled eggs

Breakfast bakes 

Mini frittatas

Toast with nut butter or smoked salmon and/or avocado

Fruit

Granola bars

Lunch
Keep lunches simple with 1 or 2 proteins such as chicken, tofu, beans, fish, lean beef, a grain such as quinoa, brown rice, pasta, corn, whole grain bread, and some fruit or veggies. 
We like to grill some chicken thighs, make a pot of beans, and roast different veggies such as turnips, carrots, and parsnips to throw into yummy lunch bowls. To make things even easier during the week– allow some extra time to put together 5 containers with your lunch combinations. All that is needed in the morning is to grab your lunch and go! 
*You can never go wrong with a sandwich: whole grain bread of choice, some cheese, turkey, roast beef, tofu, salmon, and/or veggies. Easy!
Dinner
If you can come up with 3 dinner ideas for the week, you are virtually set for 6 days of eating. This ensures variety but also the ability to just heat up food some nights – no cooking involved. Realize that meals can be simple – side of pasta, grilled zucchini, grilled chicken – or complex – turkey chili, lasagna, etc. You can even plan for a night of take-out or restaurant eating. 
As with any routine change, it takes practice and time to create a lifestyle habit. Start off small with a few prepped ingredients and build your way up to a week's worth. You too can conquer meal planning and feed your family nourishing meals during the week. 
Pick a day to make all or some of your meals for the week. Carving out time early in the week (we like Sunday) and begin your food prep. You can make oatmeal and put individual portions in containers, roast off vegetables, cut up fruit for easy side dishes or snacking, put together veggie bags (cherry tomatoes, carrots, celery, peppers), make 1 or 2 of your dinners for the first half of the week, grill off proteins for lunches. 
Though preparation takes time, it makes the rest of your week so much easier as the work is already done and you can just enjoy the fruits of your labor. 
As the week goes by, you'll have time to squeeze in extra food prep as needed, for the remainder of the week.
MU
https://banisternutrition.com/wp-content/uploads/2019/07/ella-olsson-lMcRyBx4G50-unsplash.jpg
3862
4827
Banister Nutrition
https://banisternutrition.com/wp-content/uploads/2023/06/Banister-Logo-41-years.png
Banister Nutrition
2019-07-26 14:05:39
2019-07-26 14:05:39
Meal Planning Saves Time and Stress