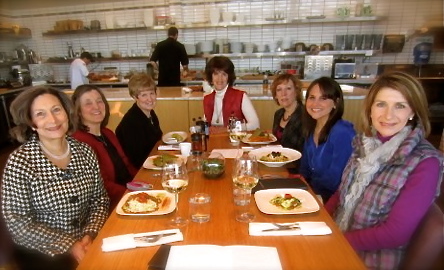 Holiday Party @ Matthew Kenney
Banister and Associates, LLC recently celebrated the holidays at our annual Christmas party at
Matthew Kenney
, on Classen Curve in Oklahoma City. We knew that we were in for a unique dining experience, but the flavor, service and quality of food were
exceptional
. It was a fabulous time and we spent nearly three hours tasting and sharing more than 13 dishes on the menu!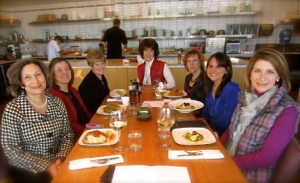 The team @ Banister and Associates: (L-R) Donita, Betsy, Beverley, Carol, Barbara, Sara and Paula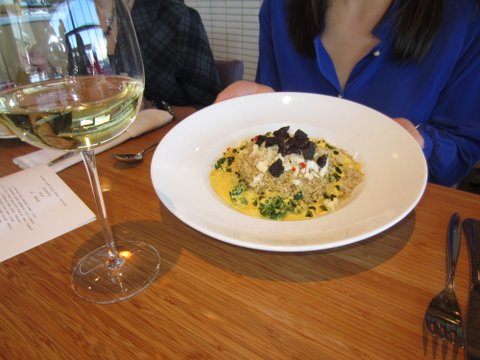 Sara's Cheddar Quinoa Bowl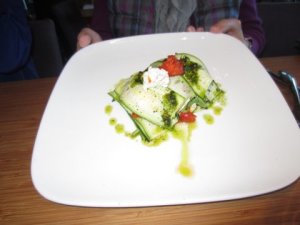 Paula's Lasagna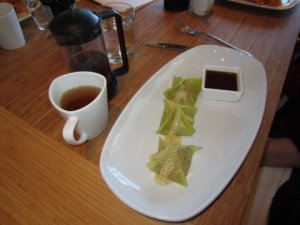 Beverley's Dumplings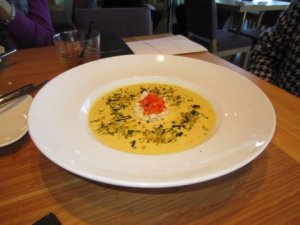 Donita's Butternut Squash Soup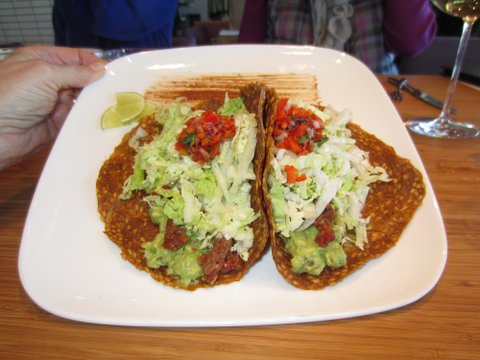 Carol's Tacos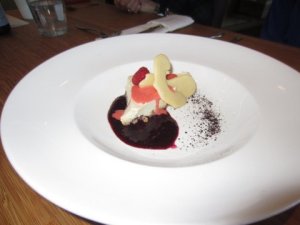 Mascarpone Cheesecake
Pumpkin Layer Cake with Carrot Cream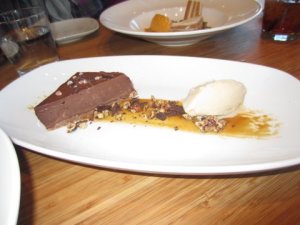 Chocolate Tart with Spiced Caramel Cream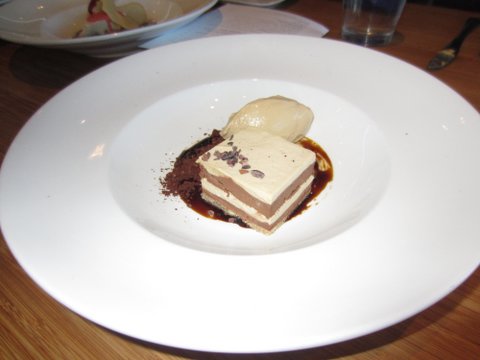 Tiramisu with Cappacino Gelato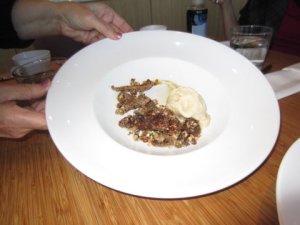 Hazelnut Crusted Pears with Vanilla Nut Icecream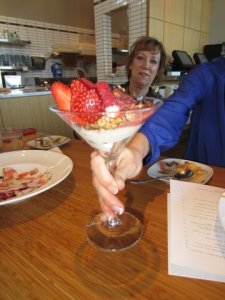 Berries and Coconut Cream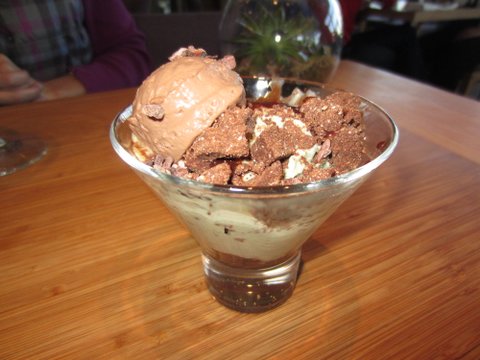 Mini Chip Sundae with Peppermint Ice Cream and Fudge Brownie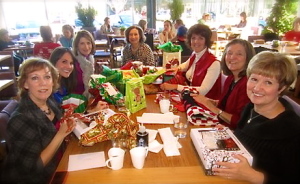 Gift giving and sharing laughs
As you can see- dietitians eat! We shared so many different plates (several photos are missing-specifically Barbara's and Betsy's Mediterranean wraps with sweet potato fries). We planned to order different items on the menu, so that we could partake in all of the unique options. Carol had recently been there for dinner with her daughter and son-in-law, so she had a heads up on several good options. Her walnut picadillo tacos had a unique flaxseed shell with red pepper salsa, orange cilantro vinaigrette and avocado inside. The flavors were fresh and the expected taco 'crunch' added great texture. I ordered the cheddar quinoa bowl, which came filled with butternut squash, kale, fennel and chili oil. The quinoa gave it a slight nuttiness and the squash, cheddar and chili oil provided a smooth creaminess with a kick of anise flavor from the fennel. It was delicious and I loved it!
Paula ordered the lasagna and we were ALL surprised with what landed on the table. It was made using zucchini rather than pasta, but the flavor was all there. The creamy macadamia ricotta was made in-house and blended with a pistachio pesto, sun-dried tomato marinara and arugula- the dish did not disappoint.
Beverley ordered the tamari ponzu dumplings which came in an order of 3. They were light and slightly green. The filling had sesame foam, almond and nori which gave it a crunch while the dipping sauce added a needed extra kick.
The butternut squash soup was chilled, so that was unexpected yet refreshing. The Mediterranean wrap was loaded with hummus, veggies and tabouli all held together in a crepe-like wrap. Crispy thin sweet potato fries rounded out the plate for a hearty, delicious dish.
And the dessert! We ordered every.single.item on the menu. As you can see above, the portions weren't large but just right. The tiramisu had a light, airy bite yet felt rich and was wonderfully paired with a cappuccino gelato. The mascarpone cheesecake was creamy with a mild flavor, and the plating was quite impressive. The pumpkin layer cake was a favorite at the table, with a distinctly pumpkin flavor layered between creamy cream cheese-like layers. The carrot cream was my favorite because I oddly love all things carrot and carrot cake, but this had a richness like carrot cake ice cream. The chocolate tart was beautifully plated and had rich, dense bite. If you're into chocolate- you want to try this one. The hazelnut pears were another favorite and everyone was surprised with how much they enjoyed it. The pears were bathed in anise syrup and candied hazelnuts danced on the plate. The textures of this dessert paired with vanilla nut ice cream were a homerun. The berries and cream were decent but nothing to seek out. And finally, the mint-chip sundae was delightful with a surprise of pairing of peppermint ice cream. The flavors were spot-on! We each shared a bite from all of them which culminated a perfect meal and a really great year for Banister and Associates.
Thank you to our patients for making our work truly meaningful. Each and every one of you is important to us. Have a blessed New Year and go try Matthew Kenney for an awesome dining experience. sls
https://banisternutrition.com/wp-content/uploads/2013/01/IMG_2367.jpg
272
444
admin
https://banisternutrition.com/wp-content/uploads/2021/09/BN-40-logo-1.jpg
admin
2013-01-10 12:43:00
2014-11-07 09:56:39
Holiday Party @ Matthew Kenney