Do you find yourself struggling when it comes to planning and prepping meals? If you do then meal kits may be beneficial in your home!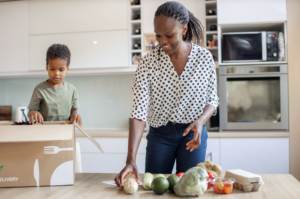 Meal kits are becoming increasingly popular among individuals and families, especially those with busy schedules or special dietary needs. On one hand, they can be convenient by making cooking much less time-consuming and may even help with budgeting. On the other hand, finding the right one to fit your needs can be challenging. There are several popular versions of meal kits from those you can select online and have delivered to your door, to those you can find in your local grocery store. Below are a few common brands along with a little bit more information to help you choose the best option that is right for you!
HelloFresh
HelloFresh is one of the most popular meal kit services on the market right now. In fact, they are currently the largest meal kit provider in the United States. HelloFresh allows you to select from options that reflect what diet you typically eat. These options range from classic meat and veggies to family friendly, quick and easy, vegetarian, calorie smart and pescatarian. They are fantastic because you can customize what you get by selecting how many people you will be feeding and how many servings you want to make. All the ingredients are pre-washed, pre-packaged, and many ingredients are even pre-chopped. Last but not least, they are sent right to your door along with step-by-step instructions on how to prepare the meal. It can't get much easier than that, can it? According to a consumer report review of HelloFresh, this meal kit service was ranked lowest in fat content, calories, and sodium among the 5 meal kit services they tested.¹ However, the nutrition facts vary from meal to meal and they did note that some meals were absent of whole grain and others fell short on their servings of veggies. Most meals are typically between 500 and 800 calories and cost between $7.00 and $10.00 per meal depending on which meal plan you choose. 
Good and Gather – Target
As I was strolling through Target the other day I happened to see an end aisle full of various meal kits. They were organized in small plastic bags with all the ingredients for a quick, easy meal. A few of the options that caught my eye were pepperoni pizza, sesame teriyaki chicken stir fry, southwest chicken tacos, and chicken burrito bowls. While these meal kits are better than eating out,  they are pricier than some other meal kits, starting at $13.99. It is also important to keep in mind that the proteins (such as chicken) are precooked and prepackaged and therefore are not as fresh as what may come in other meal kits. This should be kept in mind when considering preservatives and sodium content. Some of the condiments, such as soy sauce, are not organic as in other meal services, so if that is important to you, this may not be the meal kit service for you. Because these meal kits are not designed by chefs and dieticians, the serving sizes tend to vary more as well. The packages say that they will serve 3 people but many customers disagreed. So, if you have a large family, you may need more than one meal kit. These meal kits are still a great option if you are in a time crunch, but they might require some sprucing up by adding your own veggies and whole grains.
Blue Apron
Blue Apron is an online meal kit service similar to HelloFresh. In addition to letting you handpick your meal choices, they also have diabetes-friendly and allergy-friendly options. If cutting down on food waste is important to you, Blue Apron lets you choose the amount of servings you need similar to HelloFresh. The great thing about Blue Apron and HelloFresh is that if you decide you don't want to purchase any meals that week, you can opt out or cancel. Another positive factor is that all the ingredients come prepared. According to a consumer report review of Blue Apron, nutritionally, the meals were ranked in the middle of the 5 meal kit services they tested.² This was because 2 of the 6 meals tested had a high sodium content. However, the meals did have relatively low calories and were nutritionally sound.  The meals from Blue Apron typically contained between 500 to 700 calories and the cost per meal was between $7.00 and $10.00 depending on which meal plan you choose. 
While all meal kit services have their pros and cons, they are a hit with many busy people and can make cooking nutritious meals a breeze! If you are busy and don't have the time to plan out a grocery list, meal kits may be a solution. Just be sure to consider the nutrition facts to ensure you're getting the most bang for your buck!
KR
References
Lee, J. (2016, August 24).

Consumer Reports Reviews HelloFresh

. Consumer Reports. https://www.consumerreports.org/food/consumer-reports-reviews-hellofresh/.

Lee, J. (2016, August 24). Consumer Reports Reviews Blue Apron. Consumer Reports. https://www.consumerreports.org/food/consumer-reports-reviews-blue-apron/.
https://banisternutrition.com/wp-content/uploads/2021/06/2021-06-09-2.png
718
1083
Banister Nutrition
https://banisternutrition.com/wp-content/uploads/2021/09/BN-40-logo-1.jpg
Banister Nutrition
2021-06-15 16:26:10
2021-06-15 16:26:32
Are Meal Kits A Good Fit For You?