Convenience Cooking with Dried Beans
Cooking with canned beans may be quick and easy, but using dried beans can be made simple too! Benefits of using dried beans instead of canned? They're cheaper, 16 ounces of dried beans often turns into 32+ ounces when cooked, and you can add less salt than what is in many of the canned products.
Traditionally, many people soak their dried beans overnight, but there is also a quicker way to cook beans without the long soak! Add your dried beans to a pot and cover the beans with water. Then cover the pot with a lid and bring the contents to a boil. After the water and beans start boiling, remove the covered pot from the heat and let sit for an hour or more, where they'll continue to soak up water. Let the beans sit while you go off to run errands, take a walk, or prep other parts of your meal. After about an hour, remove the lid and bring the contents back to a boil. Next, reduce the heat and continue to cook the beans as if you had soaked them!
Stir the pot of beans periodically and check on them after an hour, and keep adding water as necessary until the beans are tender and ready to be eaten. Consider cooking a big batch up, freezing them in portions, and using them instead of canned beans in later meals!
Not sure how much to cook? This chart from www.seriouseats.com may come in handy: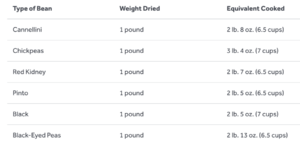 Happy cooking! -HM
https://banisternutrition.com/wp-content/uploads/2016/12/beans-cover.jpeg
1152
2048
Banister Nutrition
https://banisternutrition.com/wp-content/uploads/2023/06/Banister-Logo-41-years.png
Banister Nutrition
2016-12-06 13:50:16
2016-12-06 13:50:16
Convenience Cooking with Dried Beans